Canada explores NV mining markets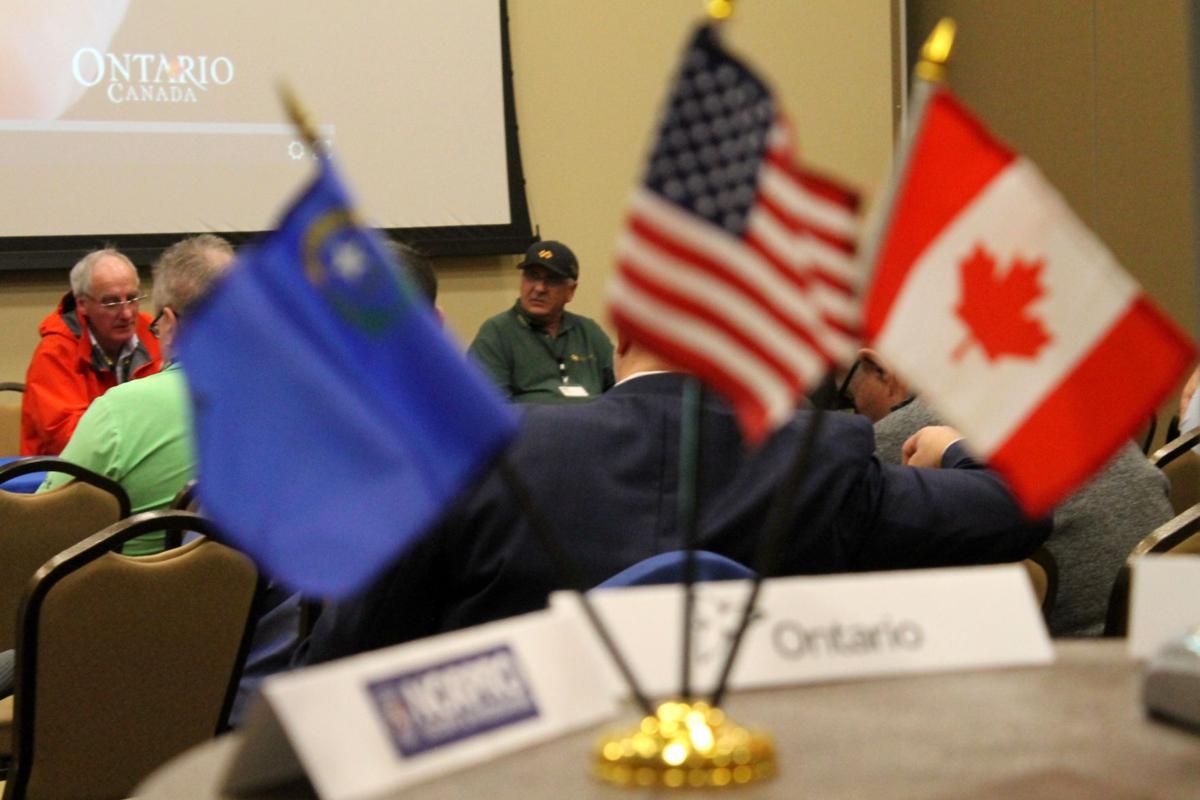 ELKO — The similarities between Elko and the province of Ontario struck representatives of about 10 Canadian mining services companies visiting the state this week through the Nevada Governor's Office of Economic Development.
"I'm surprised at how similar this area is to Ontario," said Kevin Kozar, president of Kozar Engineering Inc., based in Thunder Bay, Ontario, during a reception at the Elko Conference Center on Nov. 1. "And the people are great. They have the same mentality."
Kozar related to Nevada's sprawling open lands dotted with small mining towns, saying his home province is laid out much the same way. He referred to Nevadan's enjoyment of the outdoors, and said his countrymen and women feel the same way.
Agreeing was John Febbraro, director of business development for the Sault Ste. Marie, Ontario, economic development corporation.
"You literally can transpose one place on the other," Febbraro said. "The mining sector — it's a small family."
Group members also found common ground and possible opportunities to expand into the local mining industry.
"It's a reciprocal-type mission that would add value for both countries," Febbraro said. "There are a lot of synergies between both countries … [that] would bring mining to the next level."
The itinerary included mine tours, including Newmont Mining Corp.'s Gold Quarry and Barrick Gold Corp.'s CodeMine, and roundtable discussions with area mining professionals. The governor's economic development office hosted a similar trip for an Australian delegation in late October.
"This is a quid pro quo," said Paul Reid, business development officer for the City of Greater Sudbury, Ontario. "We can all benefit from this exchange. It helps build communities."
Canadian companies that sent agents included Hurley Ventilation Technologies Inc., Jannatec Technologies, Kozar Engineering Inc., Maestro Digital Mine, O.P.C. Construction Supplies Inc., Pneuma-Tool, RDH Equipment and Schauenburg Flexadux Corp and including P.A.C.E.
During the roundtable discussion in Elko on Nov. 1, local industry professionals — representing Barrick, Newmont, Jerritt Canyon Gold and Geotemps — talked about what it would take for these prospective businesses to be successful in Nevada. Providing stellar customer service and reliable products, keeping inventory nearby, and offering competitive prices topped the priority list.
The No. 1 recommendation, however, from nearly every local operator and supply chain director was the need for a local presence.
"You really have to plunge yourself into Elko," said Nigel Bain, executive director of Barrick U.S.A., who explained that Barrick makes an effort to patronize businesses with Nevada addresses.
Stimulating the local economy is also important to smaller operations such as Jerritt Canyon Gold.
"It's important to me to know that I've made my contribution," said Jerritt Canyon's Bill Hofer, because mining money spent locally stays in and supports the community. "If the supply chain is here … it helps the economy."
Have You registered for SAMSSA Annual Meeting December 4th at 4PM at Dynamic Earth?